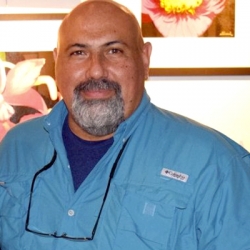 Press and Interviews
---
Carlos Apitz
---
Carlos Apitz is a graphic designer and illustrator of great trajectory and recognized by his works in Venezuela, his country of origin. Graduated from the Higuera Academy of Drawing and Design in 1984 I also took courses with Master Galeandro in Caracas.
Since 2015 he has been living in the United States, where he retakes painting as an artistic expression, which he left in 2000. Carlos Apitz offers his own style, very different from his works of the 90's. In his first Exhibition received good comments and great interest in his works.
Through his works – created with strong graphic elements and in the best New Pop Art style – he brings up a bit of nostalgia but seen from a happier, colorful and dynamic point of view. He brings up elements and characters from his native country (Venezuela) that are blended with elements of the American Pop Culture; more so with actors from the cinema's golden age, which are seen as objects of inspiration but not as to pay them tribute.
"I like to render what I see in them and not what they are remembered for." One of the highlights of the exhibit are his paintings of the Avila mountain, captured at three different times of the day, in which the emblematic mountain of Caracas, the Venezuelan capital, is depicted in his very unique vision.
"I don't want people to see just a mountain. I hope they can see the happiness within the mountain and its colors throughout the day as a means to connect us with our best memories."
His works are made in mixed media, mostly acrylic on canvass, pottery, decorative objects and high quality prints that he later gives them an original touch; thus making each reprint a unique work. Visit us at Galería Adelmo where you will be greatly impressed with Apitz's unique style that awaits to be part of your fine modern art collection.
Follow us: